posted by
Arsenault185
1 decade 3 years 7 months 3 weeks ago
•
803 views
Here are some pictures from my trip to the Korean Dmz, followed by a brief explenation. Enjoy!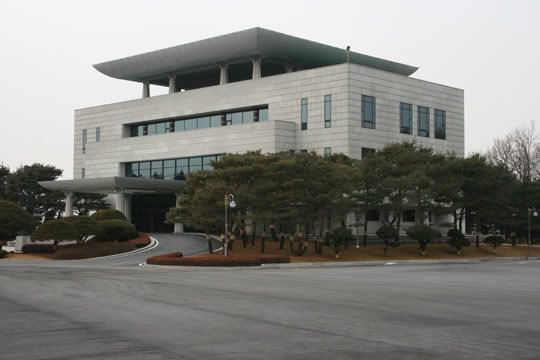 This Building was Erected on the southern side of the DMZ as a place for family separated by war. Sadly it has never been used for its intended purpose.
You can see the North Korean guard tower posed in the distance. I include this image because it was a reminder that though South Korea is thriving, the war technically never ended. There are sill armed conflicts along the borders.
This is what the guards of the DMZ refer to as "propaganda village" No one actually lives in this small village. It was built by the North Korean government as a sign that they are civilized and modern. The tower you see is a flag pole they erected in response to the flag pole on the south side. South Korea erected a modest flag pole, so obviously they built one bigger.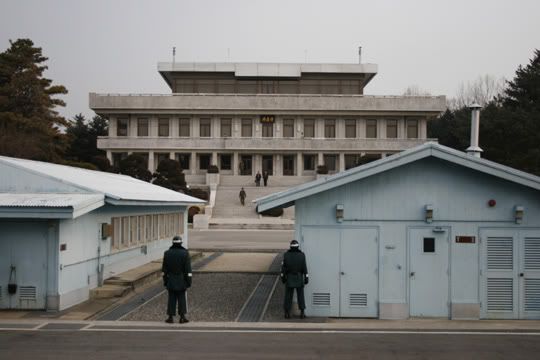 Pictured here are some of the building at which the meetings take place. (the blue buildings) In the foreground, the Soldiers are facing North at a fighting stance taken from Tae Kwon Do (a Korean martial art). The large grey building in the background is on North Korean soil.
Taken from inside one of the blue buildings, pictured here is a North Korean soldier. The concrete strip to his right is the actual border of North and South. North Korean citizens in the past try to break for it and run into South Korea. It is then the responsibility of UN troops to protect them should other North Korean soldiers attempt to "retrieve" their citizens.
And finally, a South Korean Soldier, standing behind the very table at which the meetings take place. The aviator specs are worn to intimidate the North Korean soldiers. These soldiers also have boots in which the heels of them are filled with ball bearings. This is done to honor a tactic used in the Korean war to trick their enemy into believing there were more soldiers then there actually were. Sorry I couldn't get a picture of what that sounded like.
There some good information at globalsecurity.org
If you want to know more. Its actually quite interesting.